10-03-2016, 11:48 PM (This post was last modified: 05-31-2017, 02:21 PM by Xarxaal. Edit Reason: Update! )
*** Due to life circumstances I am sadly putting everything on hold until further notice! *** 5/31/17
Welcome to my project:
Pokémon Fragments
Splash Screen Concept:
I have always wanted to create a Pokemon game for a while now in honesty I don't know if I will have the free time to really work on it and actually complete it. That being said here is the project idea I will be toying-around with and slowly working on.
Plot:
The antagonist Team/Group/Organization that were trying to gain control over this region had been stopped by a legendary Pokemon master that had sacrificed him/her self to save everyone else. Although the antagonist group was stopped the land still is trying to recover from the damage inflicted by their actions as they were trying to capture and control legendary Pokemon by ripping them out of each of their respective elemental plane. The land is suffering greatly from these rifts that have been torn open into this region's existence scientists are finding that these unusual energy rifts are causing migrations to shift, environments are changing which have caused the extinction of Pokemon in this region and the surrounding isles.
His/Her home is close to one of the affected areas and between reports broadcast on the news, as well as all the sick Pokemon that have been taken in by the local Poke Center to try and restore them to their healthy selves. Your character during a break in class is watching a pair of recovering (Insert Pokemon) has finally had enough of sitting back idle doing nothing. Knowing that just wandering around in the wilds can be dangerous he/she decides to sneak into their school and borrow one of the new training Pokemon that the grade above yours just have got in. (which will let you pick from your choice of three starters, Ice, Steel, Ground). Ms. Amelia Hawthorne (Academy Teacher) will act as the tutorial teaching about type advantages and how to catch Pokemon etc, etc.
Starters:
Ground, Ice, Steel.
Plans & Game Features:
(This are things I feel are important to me that I will be adding in.)
- Each region will contain at least 8 gyms and an elite four.
- Choose your path: Trainer, Breeder, Scientist, Thief
- Bonus region(s)
- New Type: Arcane - Pokémon that have been infused with power arcane essence!
- Thief will have a different story arc then the other three, being able to choose between two rival criminal organizations.
- Main, path specific & side quests
Rough Draft of the Region: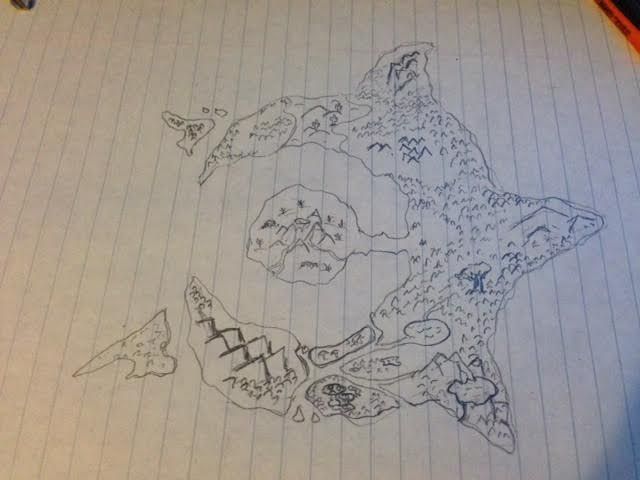 Again just things I have been tinkering around with, but a project I will be slowly but passionately be working on. I would love to hear any feedback or ideas that could expand on this. I will most likely add more to this but for now I must get some rest. I may edit this with more ideas later on
.
Starter Town:
Welcome to Knottwood
Project Team:
@
Ko2o
- Pixel Artist
Special Thanks:
@Lord Windos - Thief Class
@
Swampat
- Snail Fakemon
Music Credit:
Tungerman, Chelsea, GoldenToyko
Tileset Credit:
Kutoal,19Dante91,Kitaangel,Chimcharfireworkd,PhoenixHunter